Lampyridae (Fireflies) Photo Gallery
Photograph of Japanese Lampyridae (aquatic firefly)inhabiting Tokyo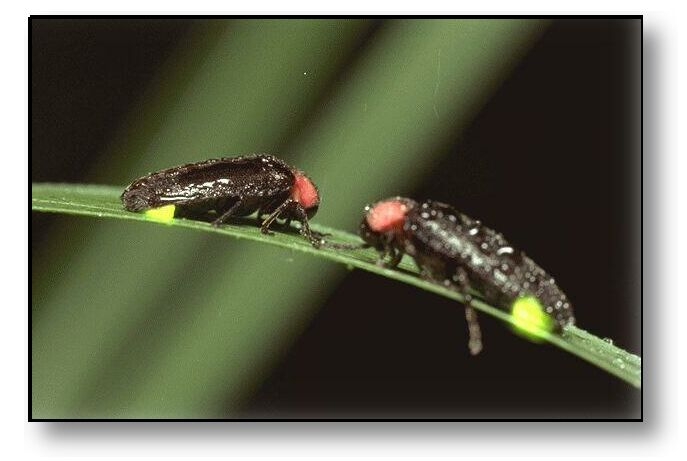 Luciola cruciata, genjibotaru, Genji firefly
Fireflies (Lampyridae) are familiar, but few realize that these insects are actually beetles, nocturnal members of the family Lampyridae. Most fireflies are winged, which distinguishes them from other luminescent insects of the same family, commonly known as glowworms.
There are about 2,000 firefly species. These insects live in a variety of warm environments, as well as in more temperate regions, and are a familiar sight on summer evenings. Fireflies love moisture and often live in humid regions of Asia and the Americas. In drier areas, they are found around wet or damp areas that retain moisture.
Flying in the darkness near the water's edge while blinking their mysterious lights--fireflies are a powerfully poetic image of summer. The word hotaru is said to derive from a phrase meaning "to drip fire" (ho-taru), or perhaps from "fire glow" (ho-teri). The kanji literally means "lantern insect". Typical Japanese varieties are the "Genji firefly" and the smaller "Heike firefly". Fireflies (Lampyridae) emit light from larval through adult stages. The spectacle of a swarm of countless fireflies is called a "firefly contest". The peak season for fireflies is around mid-June, though Heike fireflies tend to appear later. Widespread use of pesticides destroyed the river snails (kawanina) on which firefly larvae (and some adults) feed, causing a marked decline in their numbers. Efforts to restore natural populations through artificial breeding have had some success. The great entomologist Henri Fabre found that the luminescent organ of the firefly, when detached from the insect's body, continues to emit light--a discovery which prompted research into mechanisms of bioluminescence. (Wingless larvae and females [tsuchibotaru] are known as "glowworms" in English; not a season word.) At the water's edge, greenish-white specks of light dart about in the dark night air. Fireflies (Lampyridae) have made early summer a special time for the Japanese since ancient days. The Japanese word for firefly, hotaru, is generally used for two species, genji-botaru and heike-botaru. In their larva form, both species prey on small freshwater snails. Genji-botaru larvae live in clean flowing water, heike-botaru in rice fields and other places where water is stagnant.
These fireflies display later than typical fireflies (they start at 8:00PM or later) and so photography is extremely difficult.
Lens on a camera: F1.4 standard lens
Aperture: F1.4 open the diaphragm
Film: ISO 400
Shutter speed: B
Exposure time: 10 minutes
Landscape photography of the Japanese fireflyinhabiting Tokyo
Luciola cruciata
photo by Y.Furukawa


Luciola cruciata
photo by Y.Furukawa


Luciola cruciata
photo by Y.Furukawa


Luciola cruciata
photo by Y.Furukawa


Luciola cruciata
photo by Y.Furukawa


Luciola cruciata
photo by Y.Furukawa


Luciola cruciata
photo by Y.Furukawa


Luciola cruciata
photo by Y.Furukawa


Luciola parvula
photo by Y.Furukawa


Pyrocoelia fumosa
photo by Y.Furukawa


Luciola lateralis
photo by Y.Furukawa


Lucidina biplagiata
photo by Y.Furukawa

A beautiful natural environments "satoyama" is in Tokyo and the firefly lives.
There are about 2,000 firefly species in the world, but fewer than 10 species are known to be aquatic at the larva stage. All of the others are terrestrial at both the larva and adult stages, making the genji and heike species very unusual. The Japanese archipelago has plenty of rivers, streams, wetlands and irrigated rice fields, and these provide excellent habitats for aquatic fireflies. So it is natural that, since ancient times, people in villages and towns have observed and enjoyed the little lights darting about in the night. Fireflies (Lampyridae) first appear in literature in the Man'yoshu, Japan's oldest collection of poetry (late 8th century). They appear in haiku, longer poems and essays right through to the Edo period (1603-1867). In the old days, there was a belief that the lights of fireflies represented the souls of the dead. In the Edo period, one pastime was catching fireflies while enjoying the cool evening air. Ukiyoe woodblock prints show things used to catch them, such as flat and folding fans, traps made of bamboo grass, and insect nets. This custom seems to have developed in the mid-1600s in the Seta and Ishiyama districts of Otsu (present-day Shiga Prefecture). When the light show was at its peak in early summer, hotaru-bune boats would take people on eating and drinking excursions to the best places to see them.
Lightning Bugs are the same as Fireflies. They are members of a particular family of the Beetle Order. The Firefly Family is technically known as the Lampyridae. Lightning Bugs are beetles. They can't be "flies" as their name suggests, since "flies" are members of the Fly Order. Glow-worms, which produce light similar to Lightning Bugs', also are beetles, but they belong to a different, though closely related, family, the Phengodidae. There are many Lightning Bug species.